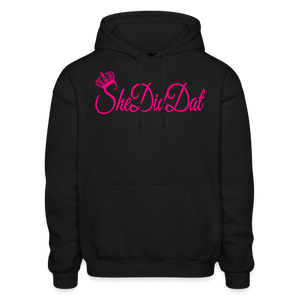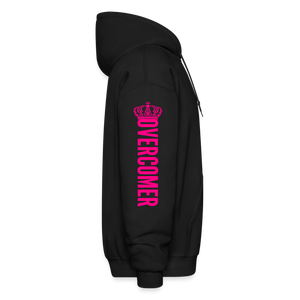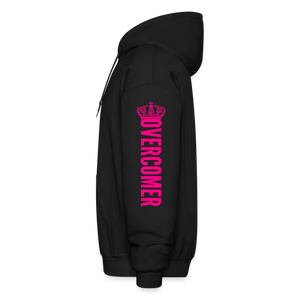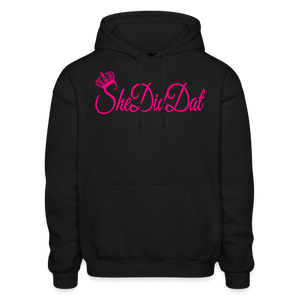 SDD Twice The Overcomer Hoodie - hot pink/black
You can knock her down, but she'll get up twice as strong! This hoodie is the epitome of strength. Strength doesn't come from what you can do, it comes from overcoming what you thought you couldn't. Here's to strong women, may we know them, be them and raise them to wear hoodies like this! High-Quality Printing.
This hoodie is the epitome of versatility. Perfect for the beach, the slopes, and everywhere in between, this hoodie will keep you warm while looking cool. You can hide all of your valuable keepsakes in the pouch pocket, and you can hide your face thanks to the matching drawcord. Is there anything this hoodie can't do?
Brand: Gildan
Fabric weight: 8 oz (heavyweight)
Material: 50% Polyester/50% Cotton (Heather Red is 60% Cotton/40% Polyester)
Double-needle stitching, double-lined hood. 1x1 ribbed cuffs.
Imported product, printed & processed in the USA
normal fit
| | A | B | C |
| --- | --- | --- | --- |
| S | 25.98 inch | 20 inch | 21.5 inch |
| M | 26.97 inch | 21.97 inch | 21.97 inch |
| L | 27.99 inch | 23.98 inch | 22.48 inch |
| XL | 28.98 inch | 25.98 inch | 22.99 inch |
| 2XL | 30 inch | 27.99 inch | 23.23 inch |
| 3XL | 30.98 inch | 30 inch | 23.46 inch |
| 4XL | 31.97 inch | 31.97 inch | 23.74 inch |
| 5XL | 32.99 inch | 33.98 inch | 23.98 inch |